Our 2020 Toyota Supra 3.0 Had a Rough Winter
BY RICH CEPPOS | CarAndDriver.Com
Troy Warren #carnews-all

Our six-cylinder Supra was a handful in the snow, and our experience with Toyota's roadside assistance was a minor disaster.
20,000-Mile Update
Spring daffodils have popped up, good driving weather has returned to Michigan, and we've swapped the winter tires on our long-term Supra for its original-equipment Michelin Pilot Super Sport summer rubber. We're now back to enjoying this raucous two-seater the way Toyota intended. If only the winter months with it had been this enjoyable.
As much as we love our joint-venture Toyota-BMW sports car, it would have been much happier wintering somewhere warmer and sunnier than in the snowy Midwest. (The same goes for most of us, which is why we stole away for quick trip to Florida to take some photos.) We have no issues with driving sports cars in winter; we've always done so with our long-termer vehicles after fitting them with winter tires, most recently with a Corvette, a Porsche, a Miata, and a Mustang. But those cars never gave us the kind of trouble that we experienced with our Supra, which largely can be explained in two words: ground clearance, of which the Supra 3.0 has but 4.5 inches.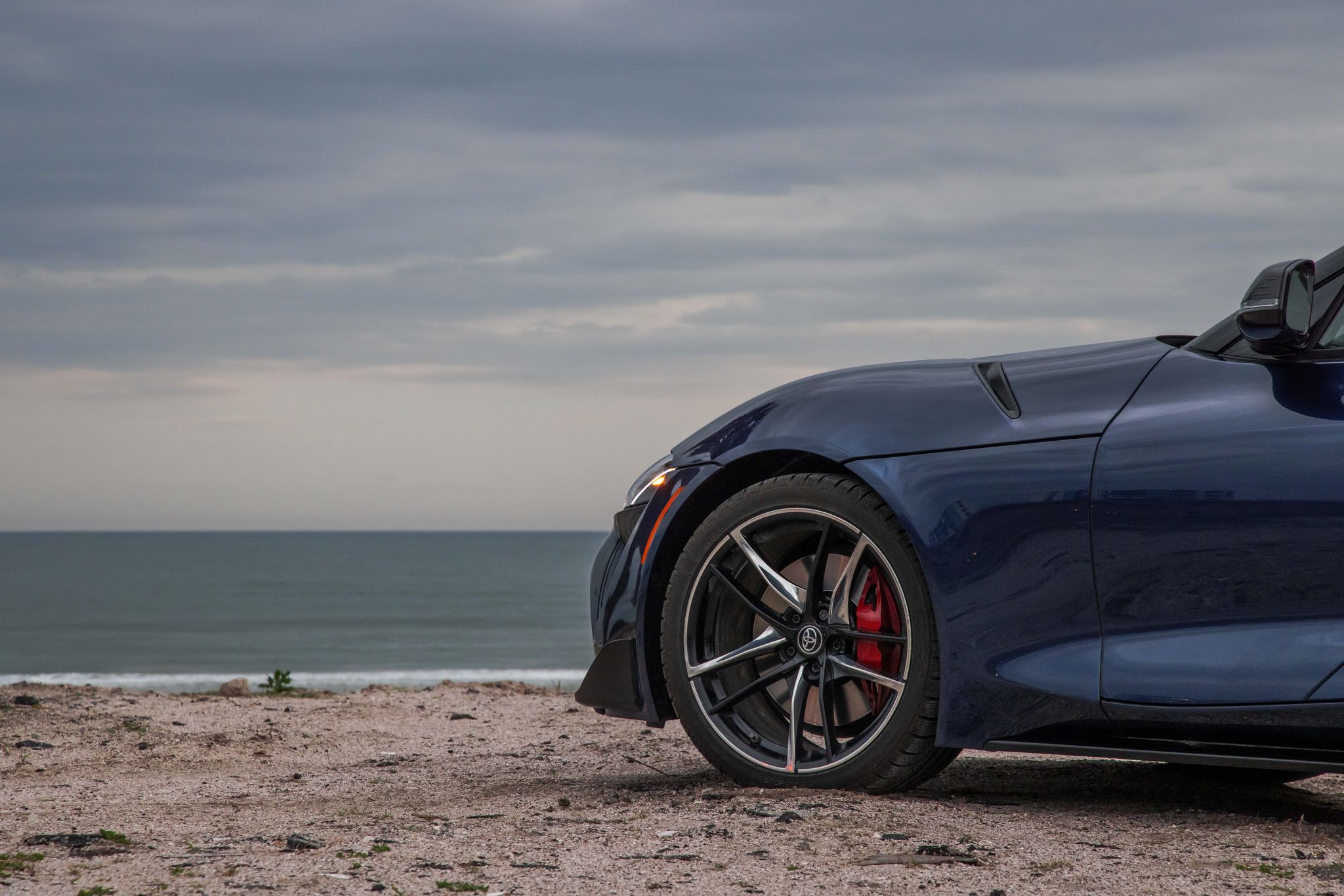 Our Supra's cold-weather shoes comprise a quartet of rare and expensive Pirelli Sottozero Serie II tires specifically designed for sports-car use. The rears were originally developed for the Aston Martin DB9, while the fronts were engineered for the Lamborghini Aventador. However, their soft compound and extra grip in cold and slush weren't enough when white stuff piled up and packed itself under the Supra's low-slung underbelly. "This car is an absolute disaster in deep snow," reported staff editor Annie White. "It gets stuck very easily, and you then have to dig out the whole underbody before you can move again. I got stuck three times in the span of an hour and eventually figured out that if I just drove faster I could power through areas of built-up snow—which is more fun. But still, not good."
Staff editor Colin Beresford had a similar experience during three snowy days that he had the Supra. "I only got stuck three times," he said, "which I'm considering a win." Added White, "I get that this isn't a snow car, and I still love it, but people who want this to be their only car and who live in a snowy area should be prepared for massive inconvenience."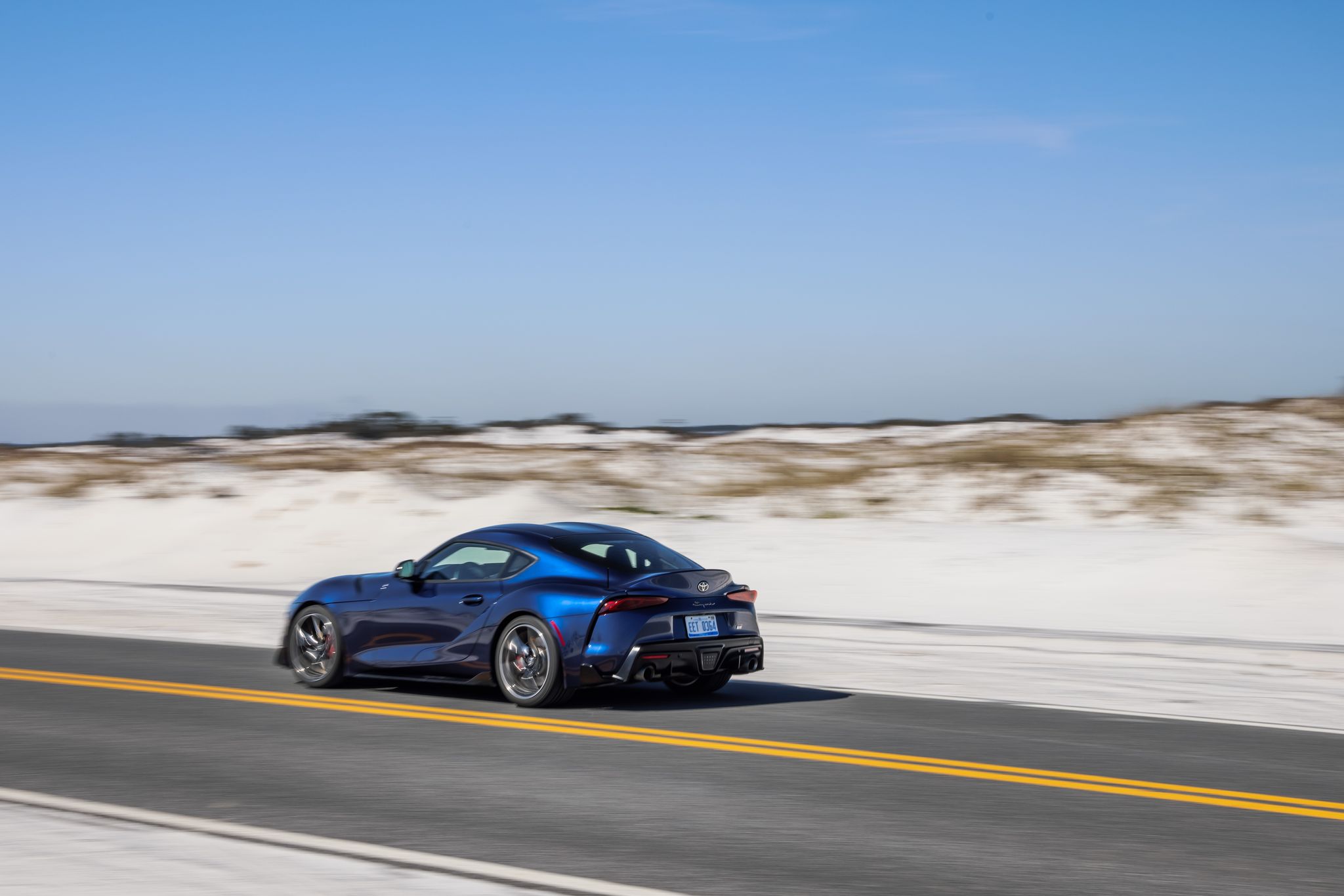 Thankfully, there were many more days during our most recent winter where the roads were clear and the Supra was able to remind us of what a thrilling and otherwise livable performance car it is. In fact, in these conditions the Sottozeros actually made life in sub-freezing temperatures better. Ultra-high performance summer tires like the Supra's standard Michelins are notoriously temperature sensitive. Once the thermometer dips close to freezing, their grip drops precipitously until they've been warmed up by several miles of driving—or more, depending upon how cold it is. Until the Michelins' temperatures came up, setting off with even a moderate prod of the Supra's accelerator spun the rear tires as if they were on ice, triggering abrupt intervention from the stability control.
The Sottozeros, on the other hand, amazed us with how much power they could put down in a straight line even when freezing cold. They also helped the Supra to steer and stop so well on dry pavement that the car's sharp-edged handling seemed hardly affected at all.
MICHAEL SIMARICAR AND DRIVER
Unfortunately, that excellent cold-weather, dry-road performance was of no help when senior editor Joey Capparella hit something—he knows not what—while zipping down an on-ramp near Elizabethtown, Kentucky, on the way to his family home in Nashville, Tennessee. Whatever it was tore a hole in the front passenger-side Sottozero, leaving the tire destroyed, the wheel tweaked, and the Supra immobilized. Supras inherited a BMW trait we don't love: no spare tire.
This led to what we've come to call Joey's Great Roadside-Assistance Debacle, in which it took four hours and seemingly endless phone calls before Toyota's roadside-assistance service arrived with a flatbed and hauled the car to a local dealer. Luckily, a friend trekked two hours from Nashville to pick up Capparella and give him a ride. That was on a Tuesday, and it took from then until the following Monday for a replacement Sottozero to arrive at the dealer (we said they were rare), where it was installed on the dinged-but-still-safe front wheel. The tire and installation cost us a steep $409. Once back home, we had the wheel straightened for $135. "I never want to drive this car again," Capparella wrote in the Supra's logbook in a fit of pique.